Fantastic News !
I wanted to give everyone who attended our Open Day some feedback on how much money was raised and to thankyou those that came and especially those that helped out and if I miss you off this list, then please forgive me
But perhaps to tell you why we did this day is just as important as in truth , they are not put on without thought or good intention ever.
Months before the Open Day we had a client who came to the centre for some healing who sadly lost her battle with cancer.
My wife Deborah Morris sat with her for many weeks prior to her passing at St Mary's hospice and one of the wings in that hospice was built by an amazing Charity called "Help Harry help others" a charity we also have a connection with via our centre.
From that platform our drive to create the Open day was born and then many people became involved to bring about a special day which was on June 24th
It is true to say that St Marys hospice has touch many lives especially those that live in Birmingham .St Marys support 350 individuals whether that's in the hospice, in their own homes or in the local community and from your attendance ,you all raised a total amount £757 and there is still more to added from the boxes in our reception which is fantastic !
We want to thank each of you who turned up and help set the gazebos ,tables and so much more and thankyou to each of you who attended that day as a speaker, therapist and also from attending the day and being part of our community as that is the only reason these events are possible, never one person, but everyone doing something to make it happen
Birmingham Holistic is unique and has never lost its focus as the reason it was set up and able to continue is the motivation behind it is as strong now as when it began 8 and a half Years ago with one room .
It is to give those that need it ….space ,time and ultimately some love and for sure many have found that here and will continue to do so and although the cosmetic lining may change with comings and going of a few, the foundation and heart never will and those that really know will really feel this always at Birmingham Holistic Health Centre which really is quite unlike any other centre that you have visited before .
Stuart Morris
Thankyou to the therapist ,speakers and all of you, and again forgive me if I missed you off this public list
Deborah Morris
Lorna Gray
Jenney Andrews
Clive Chipperfield Carr
Julie Chipperfield Carr
All of Julies family
Phil Bedford
Jo Layfield
Monica Douglas-Clark
David Parker and daughter
Yvonne Hackett
June Nolan
Sarah Gessey
Jazz Mc Caffrey
Jane Cochrane
Christopher McCaffrey
Tony Carless
Susan Manning
Mandy Truran
Stephanie Cox
David Parker
Tony Carless
Lisa Burfitt
Valerie and Lawrence Walsh
Marie Agnes Casalini
Susan Waldron
Kevin Laye
Konstantinos Kapelas
Marion Parry
Jack Stewart
Lynette Fryer
Natasha Robertson
Sarah Gessey
Julie Fulton
Guy Taylor
Anna Barret
Sandra Wathall
Kathie Murphy
Savant Distribution for Prizes
All those who came and donated prizes and your precious time, Thank you !
We will be raising money for St Mary's hospice and Help Harry help others charity
We have the most fantastic day for you to join come and enjoy with us!
Lots to see and do and join in with ,from tai chi, to drumming ,inspiring talks, lots of tasters sessions ,we will have raffle prizes , hand made crafts for sale and so much more
Our Open days are unique and this is the first one for a few Years and we cant wait to see everyone again
Below is plan of the day so far, but please return to this page as it will evolve between now and the day itself
Sunday June 24th – 10 am – 5pm 
FREE ENTRY ! 
FREE Inspiring Talks !
10am : The Opening Ceremony with Lorna Gray 
10.15 am  until 12pm Kevin Laye : Evidence based Miracles
Kevin needs no introduction really, but we will add this, if you want to start the day off in an amazing way,one that will inspire you and make you come away with a whole new concept , then do not miss this one, Kevin is a world renown speaker with integrity and for good reason, we are so pleased he is joining us for this amazing and inspirational day – Take a look at Kevin's work by clicking the link here  
12pm Konstantinos Kapelas : Breathing: Why Less is More!!  "Transform your health forever"
Kostas Kapelas is "The health Architect", founder and head practitioner at Total Health Now Clinic in central London.
Kostas helps people to Rebuild their Health, Recharge their Energy and deal with the root cause of their health problems once and for all rather than just suppressing the symptoms.This enables them to massively increase their energy levels and fulfill their life's full potential.
Did you know that poor breathing is directly related to most of the chronic health problems?
Reduce Stress & Anxious Feelings, Increase your Health & Energy Levels by Learning this Amazing Breathing Method
Come along with an open mind, a pad, and a paper and transform your health forever!!
To read more about Kostas and his brilliant work, click here
1pm. Marion Parry "Reflections on nurturing our energy"
Do you ever feel you would like more energy?
My passion is to remind you of your magnificence & inspire the creation of great health, abundance & happiness. In this session we will share ways in which we can use our energy wisely & create more energy so we can live a fulfilled & joyful life. It is my intention to humbly offer suggestions & awaken your own wisdom too. The finale will be sharing the wonderful rejuvenating energy of laughter through a dollop of Special Laughter Cream! 🤣 😂 Then we will rounded off with sharing oxytocin filled hugs if you wish.
2pm. Jack Stewart :  The Heroic Journey "Hearing the Soul's Call"

What are you here, on this planet, in this incarnation, for?
To wake up, to serve, to be fulfilled, to love and be loved and to leave having made a real contribution?
Our soul often calls to us in moments of tragedy or inspiration. The "Heroic call" may be refused in the face of feeling overwhelmed by the loss of a loved one, a job, a relationship or serious health issue. Or dismissing an inspirational moment with 'I could never do that.' But, after the dust has settled, the spectre of lying on your deathbed full of regrets and ignorance surely in itself is surely sufficient for you to let go of the "unexamined life?"
Let psychotherapist, author, trainer and healer Jack Stewart reveal to you that by letting go of the blocks that stop you from "pursuing your bliss", you can tap into all of your amazing resources, meet people who will support you in your quest, exorcise your "demons" and live [your version of] an extraordinary life.
The heroic journey process will enable you to access not  only your subconscious, but the infinite consciousness that informs  everything and let go of any programmes or patterns which no longer serve you…
Take a look at Jack and Vanessa's work by clicking here
3pm. Monica Douglas-Clark
Title: Reclaim Your Rebel – Energise Your Life
In this talk, you'll be encouraged to reclaim your rebel, count your losses, restore your energy and renew your commitment to living your life in a way that reflects who you are and who you are here to serve. This talk is for you if you want to be authentic, abundant and maintain your wellbeing.
Monica has over 20 years experience in merging the fields of professional and personal development as a business director, social entrepreneur, business improvement trainer, wellness coach, yoga teacher trainer, ordained interfaith minister and spiritual counsellor for people of any faith or none.
She's on a global mission to inspire 800,000,000 people to recover from the losses of life, reclaim the rebel within, restore purpose and leave a lasting legacy through who they are and the work they do. She shares her work through inspirational speaking engagements, online courses, group training, retreats, 1:1 practice and through her book, The Reap Abundance Guidebook.
The reception area will  have a table containing food and beverages and where every can gather and meet like minded souls and in the adjoining  room, we  will have a table with raffle prizes.
The Healing Tree
We will have a healing tree in the reception and you are more than welcome to add the name of someone you love to the little handmade tags that will be hung on the tree.
Each tag will be only £1.00 and this will go directly to the charities we are raising money for with the Special Open day event.
You do not have to even come to the centre to have the tag placed on the tree , contact Julie 07818283365 directly.
You can pay online or come into our centre 
The tree will blessed and names on the tree will be sent healing by our Reiki group.
All names will also be put into a draw and the winner will be given a voucher for a healing session to keep or give away as they choose 
The Blue Room
Hypnotherapist Stephanie will be chatting to people
Valerie Walsh will be selling her hand painted pictures
Denise will be selling her Angelic creations … lavender angels etc ..
A few years ago I attended a development course at the Arthur Findley Centre, where I was encouraged to believe in my abilities.
I have continued walking the spiritual path learning all the time to listen, see the signs and to trust my instincts.
It is during these years I have been guided, sometimes given a nudge, to combine my spiritual belief, with the love of art and crafts to produce work associated with guides and angels. My belief grows stronger everyday that everyone has a guide or angel looking after them , you just have to ask for their help when needed.
Remember……..BELIEVE . ASK. RECEIVE.
Raffle Prizes Galore !
Raffle Tickets are £2.00 each or 6 for £10 and listed below are some of the amazing prizes we will have ,all proceeds will go to the St Marys Hospice and Help Harry help others 
Kindly donated by Savant distribution 
A probiotic yoghurt maker 
Save money by making your own delicious, fresh yoghurt at home and know that what you and your family are eating contains healthy, live "good" bacteria.
The Yolife Yoghurt Maker is the fast and easy way to make fresh yogurt at home. In just 10-12 hours, Yolife can make up to 42 oz of nutritious yogurt from milk or soymilk with the convenient glass containers that are included. Unique to the Yolife Yoghurt Maker is the tall cover which comes in addition to the regular cover – allowing you to use larger glass or plastic containers to make up to 80 oz of yoghurt.
Simply add milk or soymilk, active cultures, and your favourite flavourings to make delicious and creamy yoghurt at home. Yolife maintains the optimal environment for the active cultures to turn your milk or soymilk into nutritious yoghurt filled with beneficial probiotics.
More Raffle prizes will be added soon , so click back
You can buy these Raffle tickets in our centre prior to the event
Taster sessions including :
Deborah Morris will be offering :
30 minute readings
at the end of the corridor,
next to room 3.
Room 1
Guy will be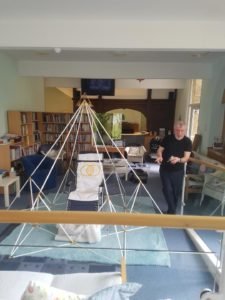 offering incredible tasters
under his pyramid,
not to be missed and these will sell out !
10 am until 4pm
Guy has been very fortunate to have spent the past ten years working in the fields of universal energy using Etheric Crystal Weavers and Pyramid structures for balancing magnetic auras of individuals and with clinical hypnotherapy.
Book early for a taster session on the day 
Only £15 for 20 mins sessions – Book early
Guy loves interacting with people, he has a firm belief that all the best results come from within, but for some people they need a certain kind of help to bring forth their positive side in order to achieve their life's ambitions, wellbeing and feel good factor.
www.healingintent.co.uk or email Guy at guytaylor963@gmail.com or call 07957 815010.
Room 2
Lorna and Julie will offer Tasters on the Crystal bed ,very unique to Birmingham and perhaps the only one of its kind in the country if not the world ,again book early
A crystal bed has 7 extremely clear and highly polished quartz crystals suspended approximately 12 inches above the client lying on a massage table.
Each of the Quartzs crystals has been cut to a specific frequency. Each crystal is aligned above one of the seven human energy centres or chakras
Also between 1 & 2pm : Stuart Morris will be offering 20 min tasters of relaxation acupressure routine over the head and face with his healing balms
Room 3 – Taster sessions 
10am Monica Douglas Clarke : Emotional Release sessions ( 2omin )
11.20 am Lynette Fryer : Energy Field Healing
1pm: Kathie Parker : Massage
2pm Kostas : Reduce Stress & Anxious Feelings, Increase your Health & Energy Levels by Learning this Amazing Breathing Method
3pm Julie Fulton Energy field Healing
Room 9
AURA /CHAKRA PHOTOGRAHS – Have your picture taken in a very unique way with a full 24 page report
Special Event price only £15 ,Anna has dedicated the other half to the charities we are supporting
Stuart Morris will be selling his healing balms ,cd's and nutritional products
Kostas with Bio Resonance Therapy
Did you know that 85% of people have some form of parasites in their bodies without realising it?
(BRT) is a unique and painless test of diagnoses and treatment that can identify and treat all kinds of diseases successfully! We at Total Health Now not only offer the BRT test, we use Russian devices that have been clinically used for the treatment. This is the future of healthcare and the most effective way to holistically treat the root cause of health issues.
You will be able to have tasters with Kostas in this room also 
You can talk to us about our training courses that we offer at our centre
Louise will be demonstrating the exclusive uses of dakota essential oils which are amazing !
We are going outdoors !
In the peace garden
11am : Tai chi , demonstrations with Maxine
11.30 : Creative movement with Jazz
12pm : Drumming with Kathie Murphy
12.30  Shibashi Qigong with Julie Fulton
2 pm Drumming with Kathie Murhpy
2.30 pm : Creative movement with Jazz
3pm Tony Tai Chi join Tony during this demonstration
Qigong with Julie Fulton
Qigong is an ancient form of energy practice developed in China to support physical health and wellbeing. Please join me for a short set of Shibashi Qigong on Saturday 24th June. Shibashi Qigong is a healing set of slow, flowing movements that help cultivate and balance the qi (energy) within your body to bring about deep relaxation and stress relief for body and mind. To learn more please visit my website www.insightcounselling.co.uk
Outdoor Gazebo 1
"Lisa Burfitt will be delivering taster sessions of Reflexology and Indian Head Massage with a special healing twist together with Angelic Reiki. She will also be selling her delightful Sacred Divinity Aura Sprays and her words of wisdom postcards, pens, stones and other craft items on the day. There will also be information regarding baby massage classes and elemental space clearing.
Outdoor Gazebo 2
Christopher McCaffrey will be introducing you to his copper Tensor Rings. Tools that can be used for clearing dense energies, protecting from EMF's and assisting us in our rapid evolution of consciousness.
 Gazebo 3 with June and Yvonne 
Various Crafts
Handmade Soaps
Hena art with Catt
Gazebo 3
We will have the healing space
Philip Bedford : Thai Chair massage
Kathie Parker : Chair Massage
Natasha Robinson: Energy Cleansing
What a great finale we will share with you
4pm -5pm FREE Concert!
We will end the day with a live outdoor music event with Deborah Morris who is an Award Winning Vocalist
4pm – 5pm Deborah Morris: Live Music & Global Healing Meditation Outside in the Gazebo.
Come and join us for a great finale to our amazing Open day
Birmingham Holistic Health Centre is quite unlike any other centre that you have been to before…
Gazebo 4 " Welcome to Narnia Land"
"Julie and Clive will be in gazebo 3 The Crystal Cave.
They will be bringing along their huge array of tumblestones, incense, Palo Santo
and gemstone jewellery.
Peruse at your leisure and see which crystal you are drawn to."